Interactive Brokers, Traders' Insight
By Gary Christie
Wednesday, April 05, 2018
In Trader's Insight, Gary Christie uses Technical Insight to evaluate investment opportunities in the utility sector.
Utility stocks have been under pressure most of the year having returned an unimpressive (-4.4%) year to date. Looking at sector performance in the past month, the utility sector has been the top performer with a return of over 1% compared to tech stocks which have declined over 5%. Is there a rebound in sight?
Our technical event screener as identified an interesting bullish setup on Ameren Corp (AEE) in the regulated utilities sector.
A Symmetrical Continuation Triangle (bullish) has been confirmed: Prices have broken upward out of a consolidation period, suggesting a continuation of the prior uptrend. A Symmetrical Continuation Triangle (Bullish) shows two converging trend lines as prices reach lower highs and higher lows. Volume diminishes as the price swings back and forth between an increasingly narrow range, reflecting uncertainty in the market direction. Then well before the triangle reaches its apex, the price breaks out above the upper trend line with a noticeable increase in volume, confirming the pattern as a continuation of the prior uptrend.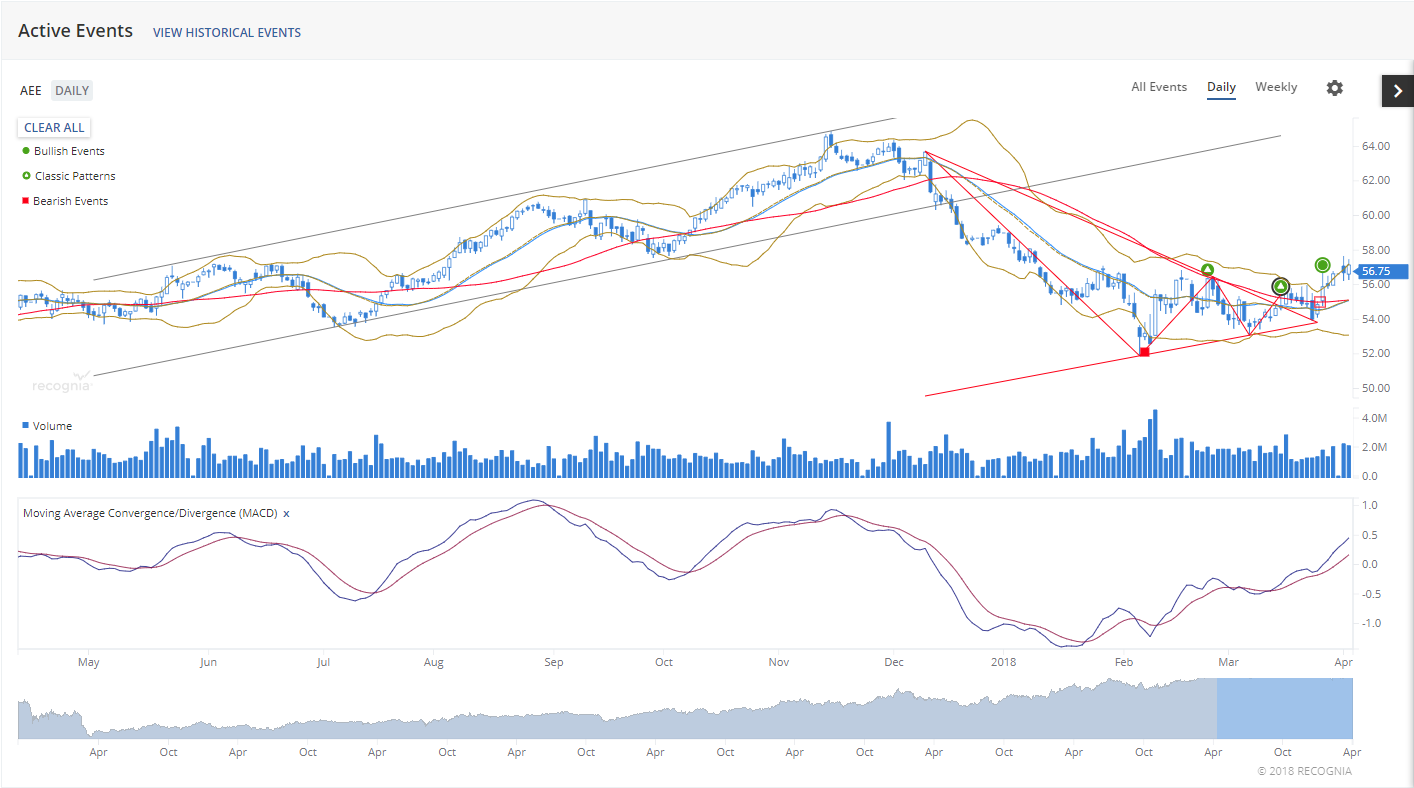 Prices have crossed above the 50-day moving average (in red) which tells us the price is generally in an established trend (bullish or bearish) for the time horizon represented by the moving average period (21, 50 or 200 bars). Moving averages are used to smooth out the volatility or "noise" in the price series, to make it easier to discover the underlying trend. By plotting the average price over the last several bars, the line is less "jerky" than plotting the actual prices. A bullish event is generated when the price crosses above the moving average, and in this state, the price is likely in an established uptrend.
The MACD (Moving Average Convergence Divergence) is above its signal line and trending higher indicating upside momentum. The MACD plots the difference between a shorter-term (12-bar) and a longer-term (26-bar) exponential moving average (EMA). Bullish and bearish events are generated respectively as the MACD fluctuates above and below zero to indicate whether prices in the shorter term are stronger or weaker than the longer term average.