The materials sector has been on the rebound after a rough 2 years of declines. The Materials Sector Fund (XLB) is the best performing sector over the last week having a positive return of 6.32% followed by defensive sector ETF's such as the Utilities Sector Fund (XLU), which is up 3.8% and the Real Estate Sector Fund (XLRE) up 2.74%. Digging into materials, gold mining stocks are pushing the sector higher.
Gold just recently broke above a declining trend line resistance area that started back in February. In a market of flattening and inverting interest rates, lower than anticipated inflation, and a 75% chance the Fed holds interest rates flat in June with a 25% chance of a possible rate cut, gold should have some support for higher price action in the summer months.
Using the technical event screener, I searched for gold stocks that have a bullish classical technical pattern, 15% minimum upside potential and good volume on the event date to help confirm the pattern.
Iamgold Corp (IAG : NYSE) just confirmed a "Double Bottom" classic bullish reversal pattern. Toronto-based Iamgold is one of the smaller gold miners under our coverage. The company operates three gold mines in Canada, Suriname, and Burkina Faso and owns a gold mine in Mali through a joint venture with AngloGold Ashanti and the government of Mali. Iamgold produced 882,000 attributable ounces of gold in 2018.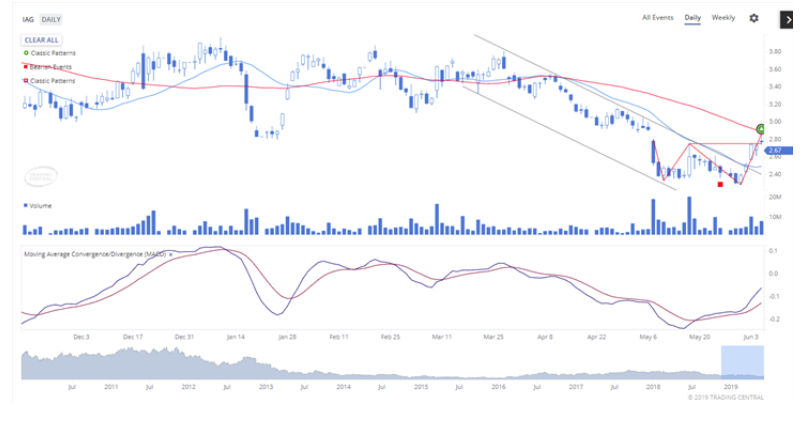 Prices seem to have reached a bottom after failing to break through a support level and ultimately rising higher in a sign of reversal to a new uptrend.
The Double Bottom pattern forms during a downtrend as the price reaches two distinct lows at roughly the same price level. Volume reflects a weakening of the downward pressure, tending to diminish as the pattern forms, with some pickup at each low, less on the second low. Finally the price breaks upward above the highest high to confirm the bullish signal.