Trading Central's global research desks are made up of experienced research analysts who offer actionable insights behind our analytics. They comment on the latest market news and aim to help today's investors navigate the markets. As brokerages look to expand their educational resources, the article below showcases the types of content our analysts write in order to support today's investors and help them make timely, educated investment decisions.
Growing U.S. economy could be a tailwind for these eleven TSX-listed industrial stocks
WHAT ARE WE LOOKING FOR?
he Dow Jones Industrial Average is up 18.8 per cent over the past six months, while the S&P/TSX Capped Industrials Index has gained 10.5 per cent in the same period.
In anticipation that the current bull market for industrial stocks continues, we look for Canadian industrial stocks that could benefit from a growing U.S. economy.
THE SCREEN
We will be using Trading Central Strategy Builder to search for Canadian manufacturing stocks offering reasonable valuations and efficient operations.
We begin by setting a minimum market capitalization threshold of $300-million. This gives us roughly the largest 30 per cent of companies in the sector.
Next, we will look for stocks with efficient operations as measured by their operating margin. We will screen for operating margins of 5 per cent or more. Operating margin is a measure of the profit a company makes on each dollar of revenue – higher operating margins are preferred. Finally, to ensure we don't overpay for our investments we will filter on forward price-to-earnings ratios of 27 or less. The current P/E of the S&P/TSX Composite Index is 27.4.
We have also included dividend yield as well as year-to-date and one-year stock price performance for your reference.
MORE ABOUT TRADING CENTRAL
Trading Central is a global leader in financial market research and investment analytics for retail online brokers and institutions. Its product suite provides actionable trading ideas based on technical and fundamental research covering stocks, exchange-traded funds, indexes, forex, options, and commodities.
WHAT WE FOUND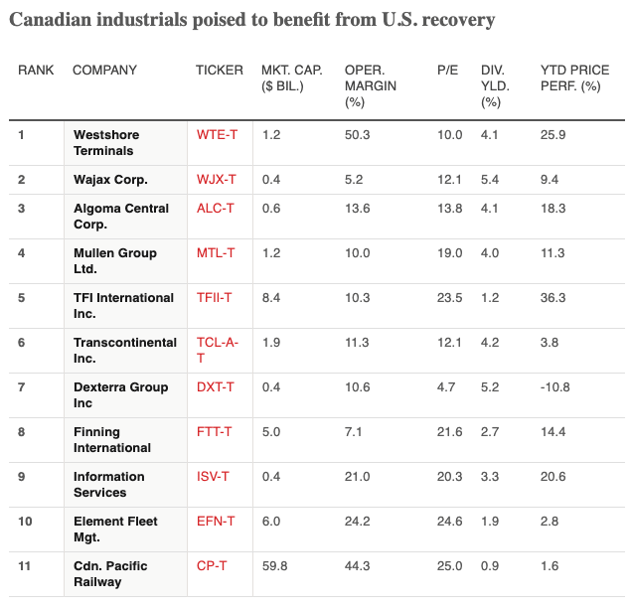 Topping our list is Westshore Terminals Investment Corp., which operates a coal storage and loading terminal in British Columbia. The stock, currently trading near a 52-week high, just had its price target raised to $21 from $20 by TD Securities. The company has the highest operating margin on our list at 50.3 per cent.
Canadian Pacific Railway Ltd. has the second-highest operating margin on our list, at 44.3 per cent, and the highest market cap on our list, at $59.8-billion. The company has made headlines this week after announcing an agreement to buy Kansas City Southern. The deal remains subject to regulatory approval.
Trading Central Strategy Builder provides a back-testing capability to evaluate how well an investing strategy would have worked in the past. Using a five-year historical period with quarterly rebalancing, the screen described had a 13.2 per cent annualized return compared with 7.5 per cent for the S&P/TSX 60 index.
The investment ideas presented here are for information only. They do not constitute advice or a recommendation by Trading Central in respect of the investment in financial instruments. Investors should conduct further research before investing.
Gary Christie is head of North American research at Trading Central in Ottawa.