By Gary Christie
Friday, March 09, 2018
In Trader's Insight, Gary Christie uses Technical Insight to evaluate Shopify as an investment opportunity.
Markets have seen some increased volatility. The technology sector has once again outperformed its peers having a one month performance of 5.4% compared to 3.4% in conglomerates and 1.6% in financial stocks. In times of increased volatility and market risk it is important to remain disciplined. We like to invest in stocks that have the highest probability of success. Our top down approach to stock selection has led our research inside the tech sector. Recognia's technical event screener as identified a bullish setup on Shopify (SHOP).
A pennant formation has been confirmed (bullish): This tells me prices seem to be resuming a sharp rally after taking a brief pause. A bullish pennant pattern occurs during a dynamic market rally, representing a brief period of indecision before running off again in the same direction. The pattern consists of two converging trend lines with diminishing volume, and is confirmed when the price breaks through the upper boundary to resume the advance. The measured move of the pattern yields a price target in the range of $157 to $161 support found at the $130 level back in September.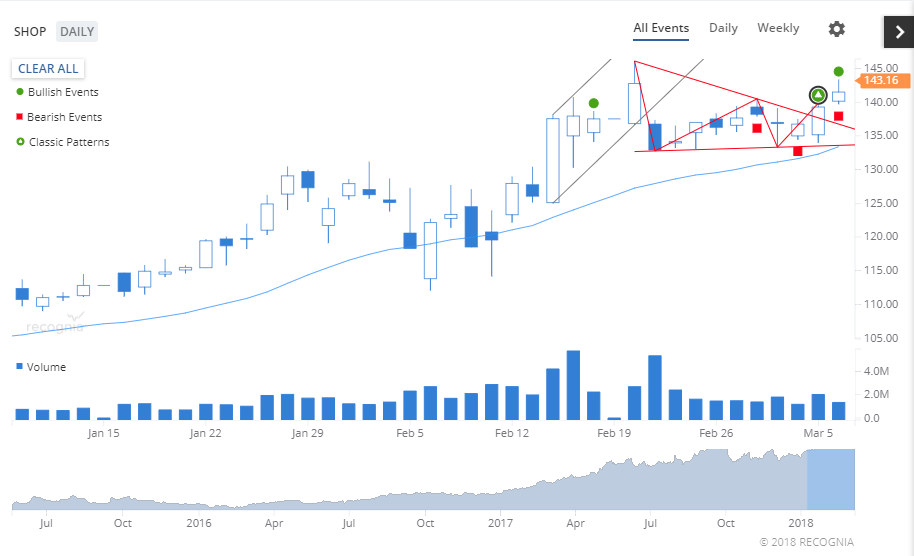 The Commodity channel index (CCI) is turning up: This tells me the price is relatively far from its 20-bar average price. The CCI measures the deviation of the price from its average value (comparing to a chosen moving average, typically 20 bars). The oscillator is normalized by dividing by the typical deviation, so we get an oscillator fluctuating roughly between +100 and -100. Many traders use these as overbought (+100)/oversold (-100) markers and watch for signs of reversal, but original use was to consider long positions when CCI is above +100 (bullish event), and short when below -100 (bearish event). When the price crosses back in between +100 and -100, another event is triggered to indicate an end to the prior bullish or bearish situation and a possible opportunity to close out such a position.