By Gary Christie
Thursday, June 1, 2018
In Trader's Insight, Gary Christie uses Technical Insight to evaluate investment opportunities in the technology sector after a recent month of recovery.
The technology sector is making a comeback this month with an average return of 3.5%. This makes it the top sector of the month and where we look for opportunity to ride the trend. Using Trading Central's technical event screener, I searched for stocks in the technology sector with a focus on semiconductors and bullish classic technical analysis patterns and received a top hit for Integrated Device Technology Inc. (IDTI). Let's have a deeper look at the stock to see why it is an interesting technical bullish setup.
Moving Average Convergence/Divergence (MACD): (Short-Term) Plots the difference between a shorter-term (12-bar) and a longer-term (26-bar) exponential moving average (EMA). Bullish and bearish events are generated respectively as the MACD fluctuates above and below zero to indicate whether prices in the shorter term are stronger or weaker than the longer term average.
A 9-period EMA of the MACD is overlayed as a "signal line" which smooths out the MACD to provide a clearer view of whether it's moving upward or downward. A bullish event is generated when the MACD crosses above the signal line, showing that the current MACD is actually higher than its average, a sign of increasing strength for the price.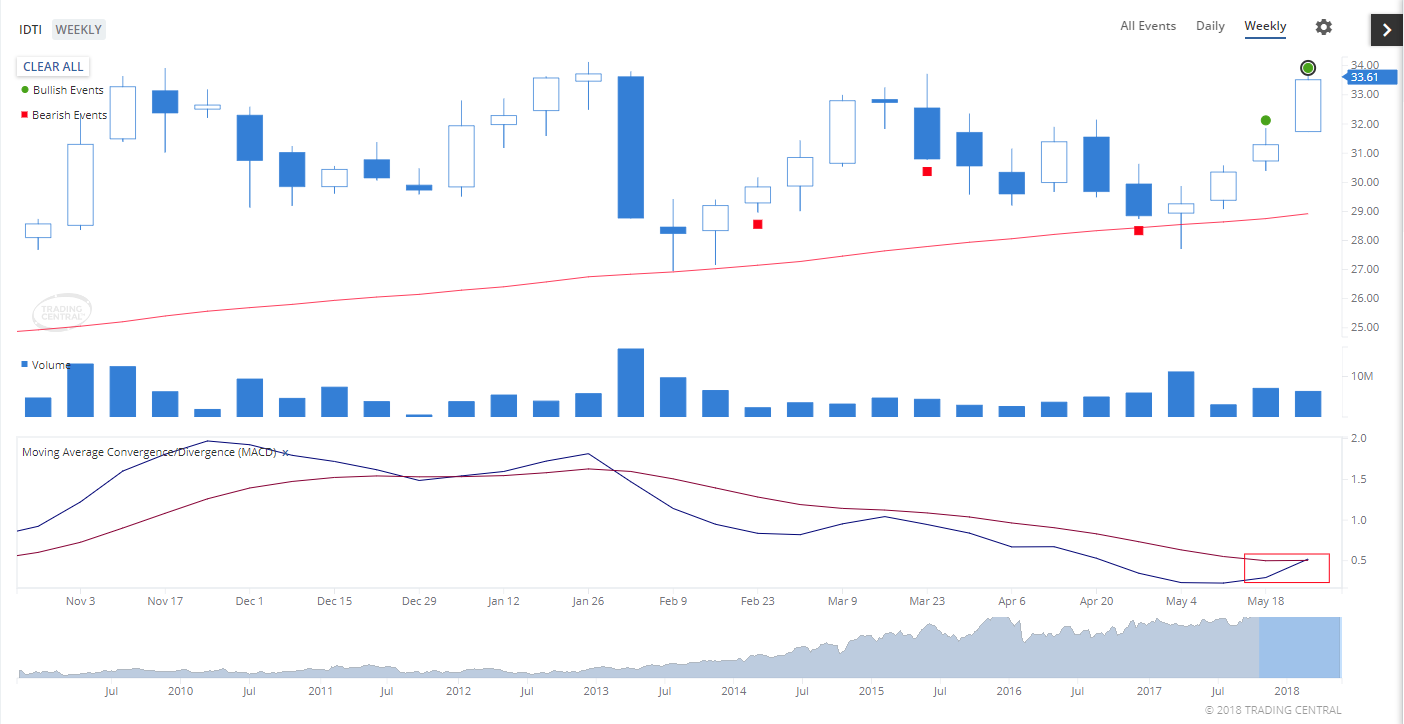 An Upside Breakout is taking place: (Long-Term) Prices broke upward out of a trading range suggesting we're entering a new uptrend.
The Upside Breakout pattern represents a trading range in which prices move sideways between two parallel horizontal lines. It's often a pause or congestion area within an existing trend though sometimes the breakout results in a reversal to the prior trend. Either way, an upside breakout through the upper resistance line signals an end to the consolidation period and the start of an uptrend.