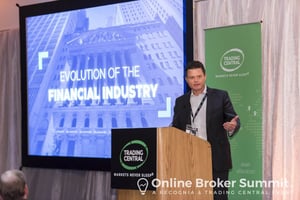 Trading Central's Online Broker Summit brings together leaders and experts of the retail online brokerage industry to discuss emerging trends and to share experiences. Through a series of keynotes, diverse panel discussions and networking opportunities, the event sparks discussion among senior leadership, who are mutual advocates and influencers for retail brokerage and for the interests of self-directed investors.
The event includes:
Business Session: three-panel discussions and two keynote presentations, all featuring leaders within the financial industry.
Industry Insights: Explore topics such as emerging industry trends, the importance of UX and harnessing ETFs.
Quality Networking: An array of opportunities to interact with like-minded professionals and develop contacts within the online broker space.
To learn more about speakers and agenda, visit our events site!