Here at Trading Central, we're constantly finding new ways to support our online brokerage customers in order to help them facilitate long-lasting success to their investing customers. In that spirit, our recent product release offers exciting new enhancements to both TC Economic Insight and TC Market Buzz.
TC Economic Insight:
Drive confident action with the new trade set-up feature and a simple call-to-action.
New insights have been added to the TC Economic Insight free teaser. Through the tool's calendar view, traders can easily identify Volatility insights and click through for more information on the Volatility Tab. If they don't have an account, they will be prompted to sign in or create an account on your platform for more information.
Once on the Volatility chart screen, traders can easily configure the risk/reward ratio they would like to use for a currency pair and see the corresponding take profit or stop loss they'd incur. After tweaking to their own personal preference, traders can use those levels to place a trade on your platform at the click of a button.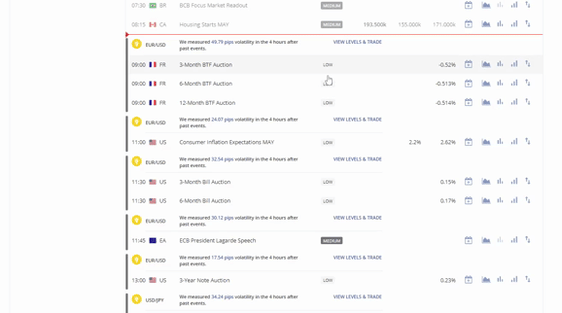 TC Market Buzz:
New content providers and an on-boarding experience.
Our interactive AI newsdesk now includes new content providers, helping to ensure you're always providing high quality content and news sources to your customers. New additions include SeekingAlpha, Yahoo and InformaGM (premium).
First time users of TC Market Buzz will now be greeted with a short onboarding tutorial, introducing them to the product's key benefits and features, helping them take full advantage of everything Buzz has to offer!