Today's financial landscape is constantly evolving and we've been working hard to expand our product offerings and integrations to better support our online brokerage customers and enable them to facilitate long-lasting success to their investing customers. In this spirit, our most recent product release delivered various new features and enhancements that we're excited to unveil...
New opportunities for our trusted research.
The concise, technical trading plans loved by millions of investors globally in Technical Views are now available within a new streamlined delivery channel: TC Market Buzz. This combines award-winning technical analysis and news analytics all in one view, making it easier than ever for investors to grasp the picture of how a financial entity is performing. Investors can easily view both the directional price trend and then news volume in one simplified view on the "discover" page, and click through for the full analysis which can now be viewed directly through the Buzz entity dashboard.
TC Market Buzz is our revolutionary newsdesk that uses natural language processing and artificial intelligence to solve today's infobesity problem. Helping your investors know more, while reading less, Buzz offers the latest news and sentiment analytics empowering your investors to find suitable trading opportunities and make well-educated decisions. Learn more about Buzz!
Now paired with Technical Views, traders will have access to our actionable top-down research that combines senior expert analysis with automated algorithms, providing a concise view of any given instrument. Learn more about Technical Views!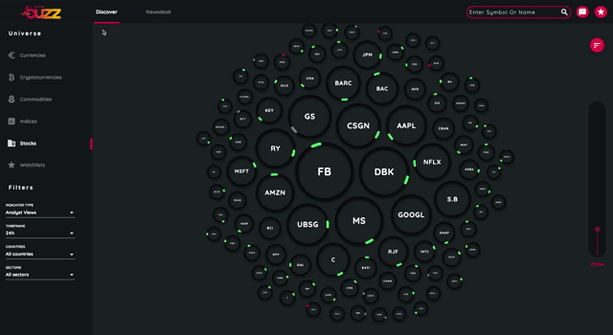 Dark charts are finally here!
Our popular Technical Views charts are also now available in dark theme! This new enhancement offers a modernized feel to our top-down technical analysis research and even more visually appealing options to implement across your trading platform. Contact us to learn more!