Strategy Builder empowers investors to screen, build and test unique investment strategies. The NEW redesign brings a modernized, engaging experience to investors, allowing them to easily jump in to screen for new investment ideas, while building an unique investment strategy.
We've made it simple for investors to explore new opportunities on the Discovery tab or simply start screening through the Screening tab. The addition of Topical Themes and Preset Screens, empowers investors to invest in what inspires them, offering lists of instruments based on trending topics curated by Trading Central expert analysts!
Investors can still expect to see many of their favourite Strategy Builder key features, including over 65 different filtering criteria spanning fundamental, technical and quantitative, back testing abilities against a selected market index, as well as embedded education throughout the product. Strategy Builder empowers investors of all skill levels to easily define actionable strategies and make confident investment decisions.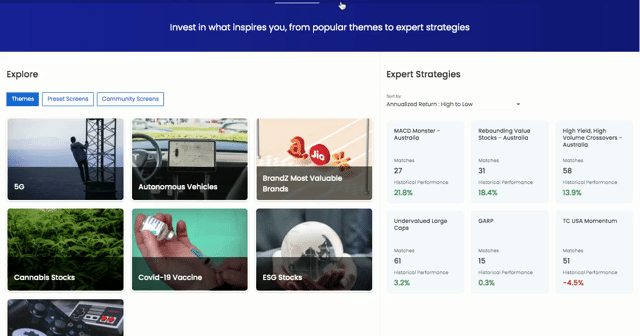 Key Features of Strategy Builder include:
Modernized screening experience: Investors can jump in and start screening for new trade ideas with on-the-fly filters, a clear results table and embedded education.
Topical Themes: Explore screens and data based on popular topics including ESG Stocks, Autonomous Vehicles and more!
Mobile-Ready: Strategy Builder is fully responsive on mobile. Support investors through compact insights so they can explore new opportunities at any time from anywhere!
Embedded Education: The "Getting Started" educational experience makes it simple for investors of all skill-levels to jump in and start building a strategy. Meanwhile, transparent descriptions of key features and filter criteria are displayed and easy to find as you move through the product.
Staying true to our online brokerage customer base, Strategy Builder offers flexible delivery options including powerful APIs, as well as a modern, stand-alone frameable user interface.
Differentiate your business with easy-to-deploy, personalized solutions that showcase innovation. Through novel, engaging analytics you can grow your platform and support investors with the tools they need to succeed in the moments that matter.