This year, online brokers globally continued to respond to the surge of new investors and market volatility caused by the Covid-19 pandemic. Combined with today's low-commission environment, providing an immersive digital experience for self-directed investors has never been more important. To best support brokers throughout 2021, we focused on delivering disruptive, transparent and snackable insights spanning multiple analysis types. Collectively, these give your business a competitive edge and your investors the insights they need to cut through the noise and make confident decisions.
1- We launched TC Fundamental Insight®
A new stock picking tool for active traders
Developed to help traders of all skill levels evaluate opportunities and pick the right stocks, TC Fundamental Insight's algorithms crunch large amounts of complex financial data to deliver a simple interpretation within user-friendly iconic visualizations.
With an engaging but simple user interface, the solution is perfect for mobile apps and multi-asset platforms as it delivers high-level insights that can easily be clicked through to discover more data and transparency.
Our team of data scientists and financial analysts worked hard this year to develop the TC Quantmental Rating® and TC Nowcasting, two key components of Fundamental Insight:
TC Quantamental Rating: A concise, high-level view of how a stock is performing across a broad range of technical and fundamental indicators. The framework crunches 20 different financial metrics to meet the needs of various investment styles.
TC Nowcasting: A proprietary indicator to pinpoint sectors and companies known for outperformance during different phases of the economic cycle.
2- We made improvements to our AI newsdesk, TC Market Buzz®
Helping your investors read less, but know more
It can be difficult for investors to find the news that's relevant to their investment goals. Delivering a disruptive news experience, TC Market Buzz's proprietary natural language algorithms collect the massive amount of professional news articles, social media posts and individual blogs published online every day to provide a concise, accurate view of any given instrument. With partners like Reuters news, Yahoo Finance, Benzinga, MT Newswire & more, you can guarantee your users are getting access to timely, fact-checked news.
Perfect for your web platform or mobile app, improvements have been made to the news filters, search bar, mobile responsiveness, load animations and more!
3- We enhanced our partnerships with charting brands
Delivering actionable, technical analysis
Flagship TC technical analysis products like Technical Insight™ and Analyst Views deliver concise, simple support to traders including bullish/bearish chart patterns and support/resistance lines. These analytics can now be accessed through our charting partner's platforms such as TradingView and Cosaic.
These partnerships deliver a modernized, digital charting experience to users with embedded education and actionable insights supporting traders of all skill levels.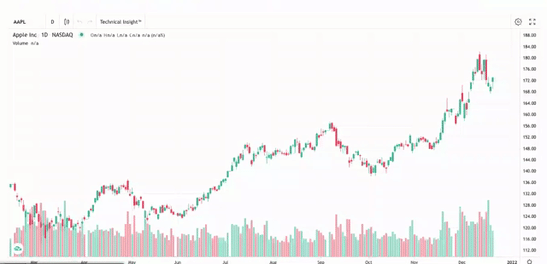 4- We launched a widget library
The latest way to integrate your TC analytics!
Our collection of widgets can easily be embedded across your platform, spanning Market Data, Technicals, News, Fundamentals, and more! Match your app's styles and integrate with your envisioned workflow, supporting users as they move throughout your app. Widgets are responsive, mobile-ready, accessible and simple to integrate… helping you move quickly to reach your goals.
As we head into 2022, we are excited to continue helping brokers create successful relationships with their investing customers. Through powerful, transparent analysis we'll continue to provide innovative solutions for brokers to integrate across their platform, in a way that helps them reach their goals and supports their users throughout their investment journey.