Interactive Brokers, Traders' Insight
By Gary Christie
Thursday, April 26, 2018
In Trader's Insight, Gary Christie uses Technical Insight to evaluate investment opportunities in the financial sector.
Volatility is back in the markets which has made investing in the equity markets challenging this year. As the S&P 500 looks down at its 200-day moving average for some support, where can we find opportunities to invest inside this correction? The Financial sector has remained relatively stable with some signs of a rebound to the upside in the horizon.
Trading Central's technical event screener has identified a bullish reversal pattern in Capitol Federal Financial (CFFN).
A Diamond Bottom pattern has been confirmed: Prices seem to have reached a bottom, showing signs of a reversal, as it has broken upward after a period of uncertainty or consolidation.
The Diamond Bottom pattern begins during a downtrend as prices create higher highs and lower lows in a broadening pattern. Then the trading range gradually narrows after the highs peak, and the lows start trending upward. When the price breaks upward out of the diamonds boundary lines, it marks a significant reversal to a new uptrend.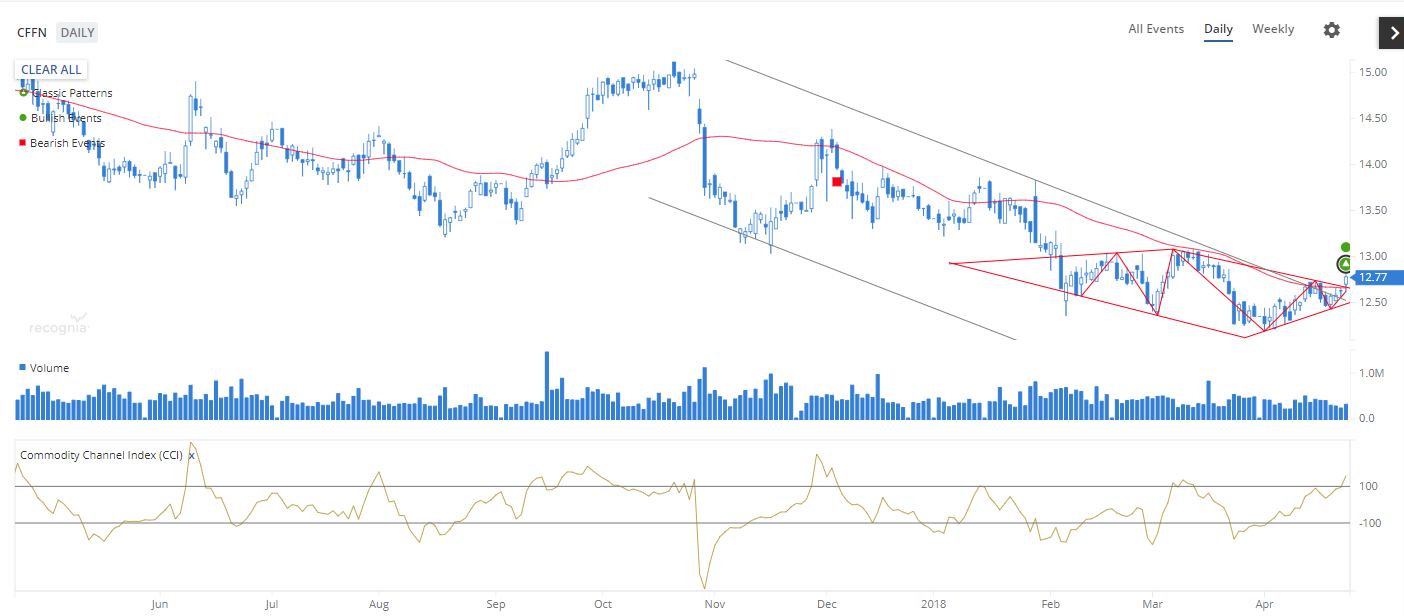 Prices have also crossed above the 50-day moving average, indicating upside momentum.
Finally, the Commodity Channel Index (CCI) is bullish after having broken above its 100 level, indicating further upside momentum. The CCI measures the deviation of the price from its average value (compared to a chosen moving average, typically 20 bars). The oscillator is normalized by dividing by the typical deviation, so we get an oscillator fluctuating roughly between +100 and -100. Many traders use these as overbought (+100/oversold) (-100) markers and watch for signs of reversal, but original use was to consider long positions when CCI is above +100 (bullish event), and short when below -100 (bearish event). When the price crosses back in between +100 and -100, another event is triggered to indicate an end to the prior bullish or bearish situation, and a possible opportunity to close out such a position.