Our recent product release offers exciting new changes to support both our customers' mobile and digital marketing strategies.. With updates now released for Strategy Builder, TC Economic Calendar and Insight, we're continuing to set the standard for market research and analytics by facilitating long-lasting success for your investing customers.
Strategy Builder is mobile-ready!
With a recent Bank of America study finding that 79% of millennials are interested in banking through mobile channels, there has never been a better time to adopt a mobile-focused product strategy.
Our team has been working hard on a new, modern re-design of Strategy Builder that allows investors to take advantage of it's full feature set within mobile, improving engagement, accessibility and the support we provide in the moments that matter . Improvements have been made to the tool's initial screener pages, the process for setting alerts and educational elements.
Strategy Builder's personalized and transparent analytics help boost investor confidence by offering traders the opportunity to use fundamental and technical analysis to screen, build and test unique investment strategies. With in-depth filtering criteria and strategy back-testing, investors can work towards their financial goals with a personalized trading plan.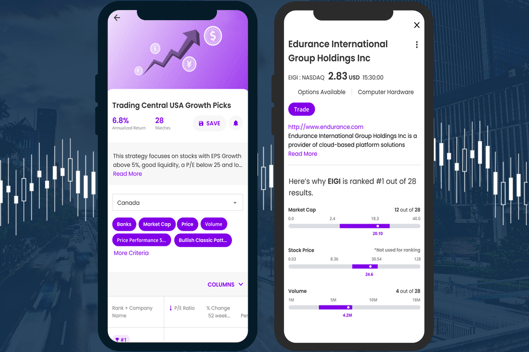 ---
Attract new customers using a free teaser of TC Economic Calendar or Insight
Drive new investors to your website using a free teaser version of TC Economic Calendar or Insight. This SEO-friendly content and "freemium" model offers your traders instant value, enabling them to stay up to date with basic calendar and pricing features, while prompting traffic to sign in or make an account to access the premium research.
Our economic calendar offerings allow traders to monitor, anticipate and act on market moving events. Using real-time, macro-economic data, investors can track events in real-time and view how similar events have played out in the past, offering premium support to prepare traders for success in today's markets.